Fresh from winning a historic treble with the Bradford Bulls, Lois Forsell is now preparing to help England win a World Cup and give women's rugby in the country a huge boost. It's a sign that the sport is growing among women with the national side going to Australia in November.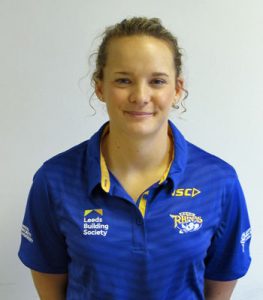 She is a part of the 23 women squad which is going to be facing the Australian Jillaroos, Papua New Guinea Orchids, and the Cook Islands during the World Cup. This is also the first time that the women's and men's World Cups are being played simultaneously. Also, the women's final will act as a curtain-raiser for the men's final on the same day.
While women's sport is on the rise the world over, the popularity when it comes to rugby is far more. It is helping get the right message to the people that anyone can be a fan of the sport and anyone can play it as well. The RFL is pushing its media team to get maximum coverage for women's rugby right now, and it certainly is a fantastic sight to behold. This is exactly what the sport needs.
Forsell recently helped Bradford pick up a clean sweep of the Challenge Cup by defeating the Featherstone Rovers. They also managed to finish their entire season without losing a single match.
Forsell was first called up to the England squad at the age of 17 to play in New Zealand. Featherstone Rovers were winning everything in their sights at the time and that's part of the reason why Forsell chose Bradford. It's been all uphill since then for her and the team. Hopefully, the upward trend is going to continue for rugby in the years to come. Also, hopefully, England will put on a strong show at the World Cup.